The Word of God transforms the lives of children.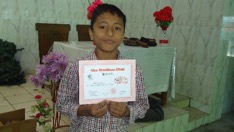 At first I thank to the Lord for this wonderful opportunity to finish these TMC courses by Generation Bangladesh. I didn't know God very well before the courses, but now after finish this Mailbox course I learn how I can know the Lord very well. I believe in Jesus as my only Savior. I learned many thinks from these courses and it helps to changed my life. I want to know the Lord more and more and I want to serve Him and work for His kingdom. Please pray for me.
Saikat, Bangladesh
My name is Raja. I read in class eight. At first I like to give thanks to God and Generation Bangladesh because they give me this opportunity to complete the Mailbox Club. The Mailbox Club courses changed my life and I really learned many things from there. I realize God's deep love for me. God give us His only Son for my sin. Thanks to Mailbox Club to show the truth in this courses. In this book there was many questions and I give the answers of those questions. I really enjoyed the courses and complete the course with a great joy. So please pray for me. I love Jesus so much. I know that He also loves me. 
Raja, Bangladesh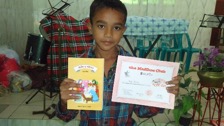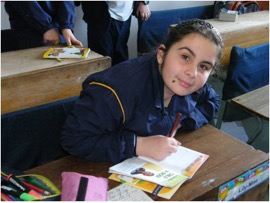 The Bible lessons changed my life to go to church and enjoy the church every Sunday. When I read my Bible I saw change in my life. I didn't listen to my friend when they said we must not go to church.
Itumeleng, South Africa
My name is Annika …  I'm 11 and in 6th grade.  I am homeschooled.  I got saved in 2011, when I was 7.  I like getting the lessons.  I can't wait to get mine.
Annika, 11 years old, United States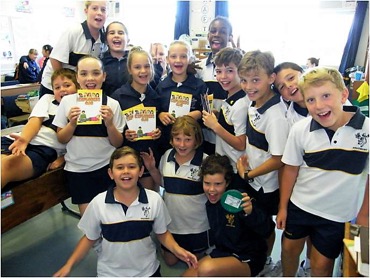 The lessons made me a better person. I enjoyed the lessons. They made me never go to street. I could read them all day with the Bible. They make me happy and joyful.
Basetsana, South Africa
Thank you Bible Club Teachers for all the efforts you put in at sending these lessons, checking them, sending gifts and all that.  It is appreciated.  Love and God bless you, a student. 
Lorrinda, 12 years old, United States
Lesson two taught me more about God. God keeps His word always and does what He says He will do and what He promised. We must love the Lord because He loved us first. Human beings can only be at one place at a time, but God is Spirit and can be everywhere at the same time.
    
Chantelle, South Africa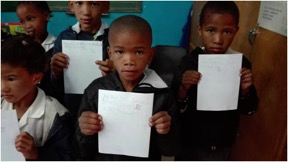 In this lesson I learned that because Jesus is righteous, He must judge sin.  I did not know that.
Student, 15 years old, United States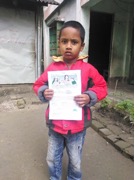 I have got the best opportunity to do Mailbox Club Courses. Doing this course, I have known about Jesus. God is my Creator and Jesus Christ, He is my Savior. Jesus save me from my sin. He took the responsibility of my sin and get free me. Jesus loves me so that He gave his blood on the cross. So, I have decided to follow Him and know more about Jesus. Mailbox Club helps me to know about Jesus.
Dipon, Bangladesh
I give God all the glory for providing me with a safe and loving home, where I finally belong.  Again, thank you for all your prayers, God is answering.  And thank you for this Mailbox Club, it has definitely helped me through all this.
Landon, 13 years old, Louisiana
I really want to Thank to Mailbox Club for sending us this great Materials. I have learned so many things especially I have learned that how to change our mind and walk with Jesus. From this Courses I also memories some Bible Verses which is very Important for me.  Some Bible Verses helps to change my secular thinking and helps me to get new mind which will lead me to follow Jesus. So, I have decided to give my heart to Him and stay with him for the rest of my life.
Shotto, Asia Region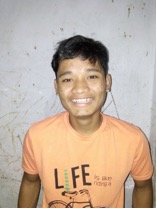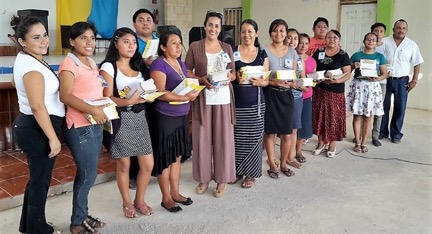 Before studying the Explorers Club lessons I used to be disobedient to my parents and wouldn't like to help take care of my little brother, also I used to take money from my dad's pocket when he got drunk, and when him and my mom would ask me who took the money I would blame my little brother and I would say bad words to them. Then my uncle and aunt came to our home and took me to the Explorers Club and my life started to change.  Now I help to take care of my little brother and I don't say lies to my mom anymore.  Because I learned that Satan deceives us and that sin is bad for us, but that God came to us to give His life for us and that He is preparing a place for us in Heaven.
Angel, 11 years old, Mexico
I like the Explorers Club book, but before I studied it I used to misbehave a lot, because I would scream at my mom and hit my little sister.  When my mom asked me to do something I wouldn't obey her.  But now I'm a happy girl because I learned from the Bible in the Explorers Club lessons and my mom is taking me to church on Sundays. I became more obedient and help my mom to wash the dishes.  I'm like a new person and I like to talk with God.
 Paola, 7 years old, Mexico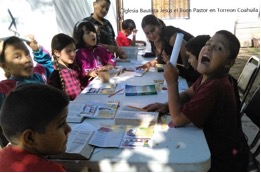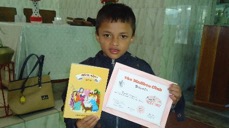 Hi, I am Joyonto. I read in Class Seven. I completed Story Time in 2016. I thank God for He gave me the chance to do the Courses. Story Time Courses really inspired me to know more about God. Its helps me to get close with Jesus every day. Now everyday morning I read one Bible Verses and I also pray to him. It is helps me to be different from some of my friends. I also help my friends to join with me to do the Story Time Courses. Please pray for me so that I can spread His Words to others. I am very grateful to you all for supporting for the TMCCourses. Please accept my love and greetings.
Joyonto, class seven, Bangladesh
© 2018 The Mailbox Club, Inc.